This week's menu:
Monday: Sumac Roasted Lamb with Simple Salad
Tuesday: Eggplant Rolls in a Spicy Pomodoro Sauce
Wednesday:Green Chile Chicken Enchiladas
Thursday: Tossed Green Salad with Poppy Seed Dressing
Bonus Recipe: A PERFECT Simple Cherry Pie to help you soak up and hang onto all the beautiful summer produce memories from the season. (Ingredients not included in grocery list.)
Are you excited so see some of my personal favorite recipes? These really are some of my favorites…and I'm packing them into one week of deliciousness! And, of course, using all the summer produce we have left…how is summer over already?!
Make sure you take a look at the grocery list, shortcuts, & meal prep tips at the end, they're help ensure you don't unnecessarily waste any time.
A PERFECT Simple Cherry Pie to help you soak up and hang onto all the beautiful summer produce memories from the season.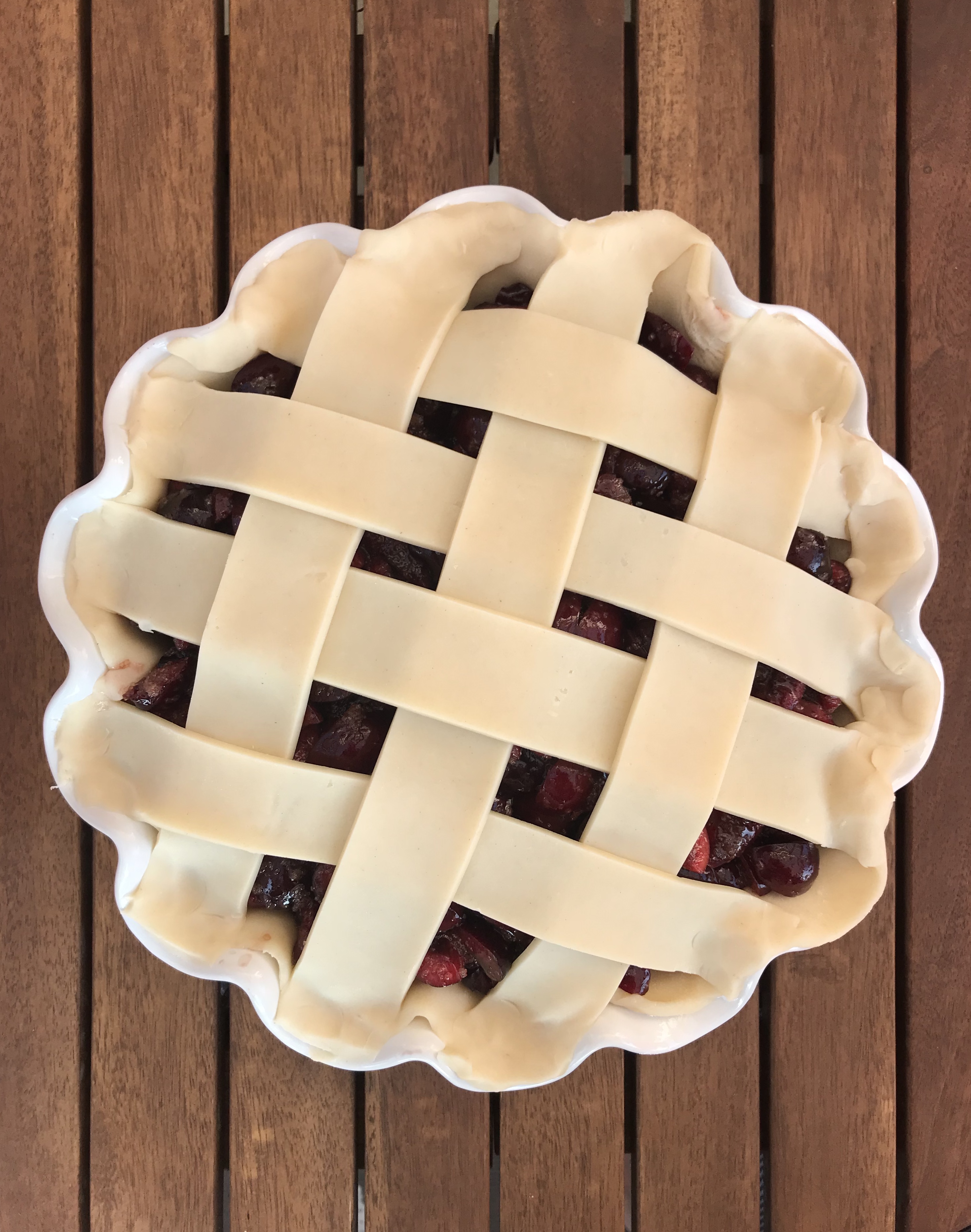 Grocery List:
Ingredients
Meat, Poultry, & Seafood:
1

whole chicken

2 

racks of lamb

4 

eggs
Produce:
3-4 

heads romaine

1/2 

small head purple cabbage

2 

jalapeños

2 

large eggplants

4-6 

radishes

1 

lime

3

large carrots

1 

pint 

sprouts

1 

english cucumber & 2 persian cucumbers

2-3

stalks celery

2 

avocados

1/2-2 

lbs. 

tomatoes on the vine

1 

pint 

cherry tomatoes

~16 medium basil leaves

3-4

inches

fresh ginger

2

shallots

1

yellow onion

9-10 

garlic cloves
Pasta, Grains, Bread, Nuts, Seeds:
Cans & Jars:
1 

can black beans or kidney beans

1 

can chickpeas

24 

oz 

~24-oz green chile

green pepper, or tomatillo salsa
Dairy:
1.5 

cups 

ricotta cheese

6 

oz. 

fresh mozarella

1/2 

cup 

parmesan

2-3 

cups 

pepper-jack cheese
Spices, Oils, Etc:
3 

tbsp 

sumac

1 

tbsp 

garlic powder

1/2 

tsp 

red pepper flakes

2

tbsp

sugar

1/4 

cup 

greek yogurt

1/4 

cup 

vegan mayonnaise

1/4 

cup 

apple cider vinegar

1 

tbsp 

poppy seeds

1 

tsp 

dijon mustard

1

tbps peppercorns

1-2

bay leaves

flavorless oil like sunflower seed or canola

olive oil

salt & pepper
Tips & Shortcuts:
Before anything else: go through the grocery list and cross off anything you already have at home.
SHORTCUTS:

Buy a rotisserie chicken instead of poaching a chicken for the enchiladas. 
Buy a jar of pasta sauce instead of making your own spicy pomodoro for the eggplant rolls.

Weekend Meal Prep Tips: Grocery shop! Wash your veggies and put them back in the refrigerator so you don't have to worry about it the day of. Keep herbs in water like you would with flowers.
Daily Meal Prep Tips: 

Monday: If you have extra time, you can make your tomato sauce for dinner tomorrow.
Any day before Wednesday: Poach your chicken. You can even shred it in advance.
Wednesday: While your enchiladas are in the oven, make your dressing for tomorrow.

Contact me if you have any questions or if something didn't turn out quite the way you expected!