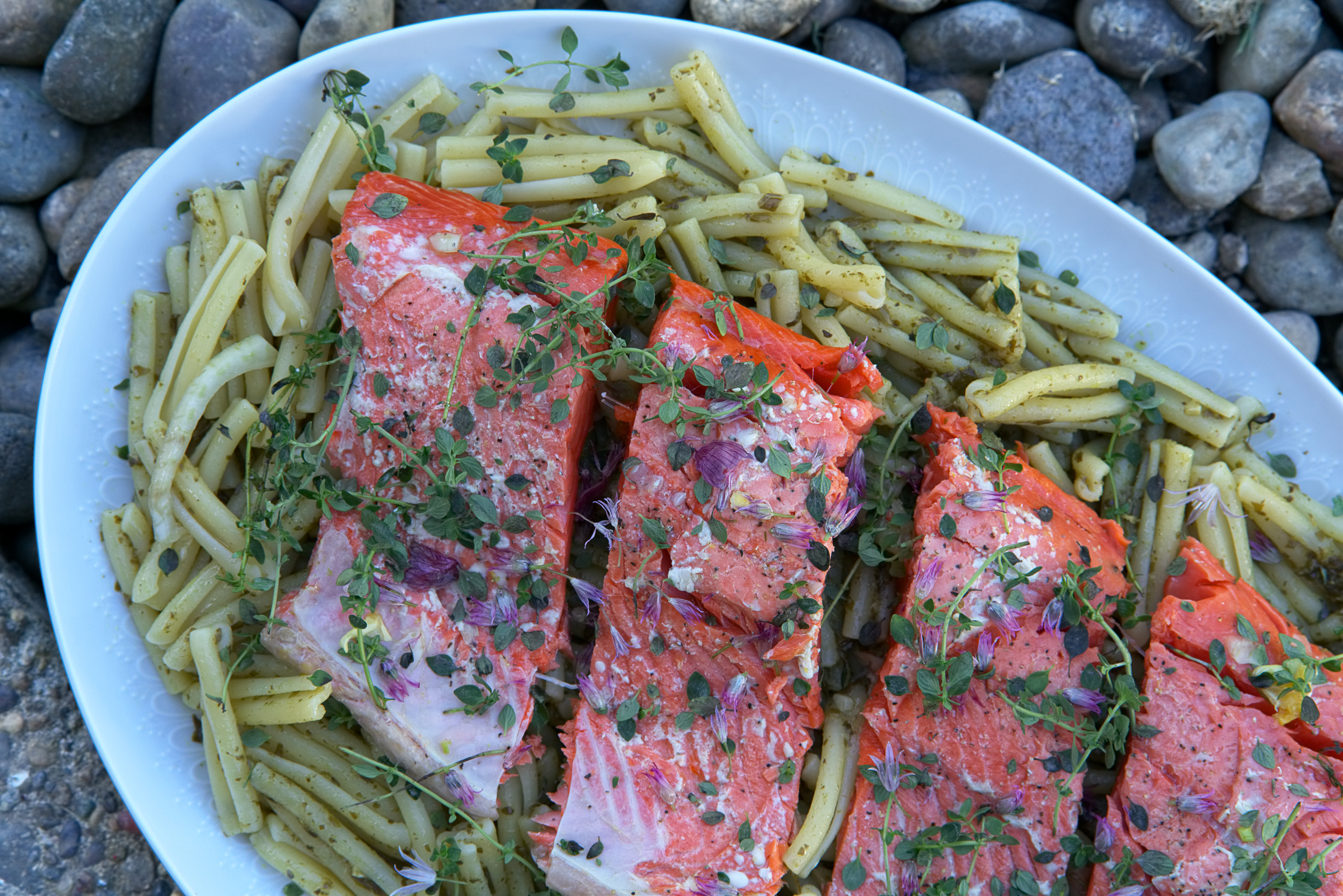 This week's menu:
Monday: Citrus Thyme Salmon with Pesto Pasta
Tuesday: Orange & Bell Pepper Chicken Traybake (Recipe video included)
Wednesday: Soba Noodles Stir Fry with Edamame, Cherry Tomatoes, Basil, & Baby Bells
Thursday: Basil Mozzarella Pizza
Bonus Recipe: Tarragon & Fennel Scotch Cured Salmon – It's salmon season, and making lox is MUCH easier than you think.(Ingredients not included in grocery list.)
This week's meal plan is so very delicious without all the fuss…how does that sound to you? Each of these dishes are packed with flavor, and take minimal time in the kitchen. I know we all could use some more of that!
Make sure you take a look at the grocery list, shortcuts, & meal prep tips at the end, they're help ensure you don't unnecessarily waste any time.
Happy salmon season!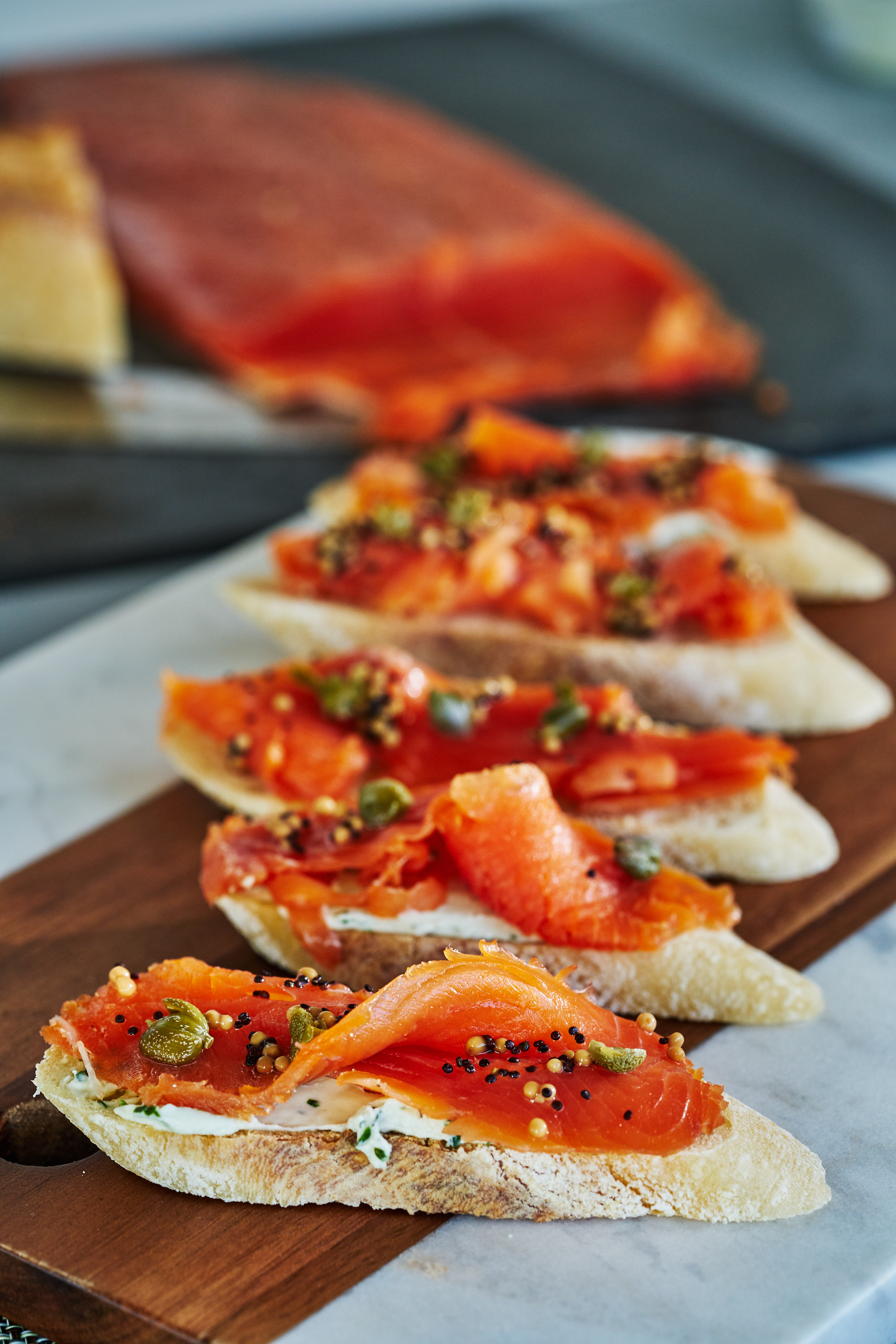 Grocery List:
Ingredients
Meat, Poultry, & Seafood:
1.5 

lb.

sockeye salmon filet

6 

bone-in chicken thighs
Produce:
2

oranges

8 

oz. 

sweet baby bell peppers + 2 large bell peppers

1-2 

Thai chilis OR sub 1-2 tsp red pepper flakes

1 

small bunch lemon thyme

12

oz.

fresh basil

16 

oz. 

cherry tomatoes

1 

small bunch scallions

1-1.5 

lbs 

sweet potatoes

1-2 

tbsp 

fresh ginger

11-12 

cloves 

garlic
Pasta, Grains, Bread, Nuts, Seeds:
1 

lb. 

pasta

4 

bundles soba noodles

1/4 

cup 

toasted pine nuts
Dairy:
1/4 

cup 

parmesan

~8 oz mozzarella
Frozen:
~16 oz. frozen edamame in pods
Spices, Oils, Etc:
all purpose flour

1

gram

of dry yeast

1/2 

cup 

sake

2 

tbsp 

soy sauce

1 

tbsp 

honey

2 

tbsp 

herbes de provence

flavorless oil like sunflower seed or canola

olive oil

salt & pepper
Tips & Shortcuts:
Before anything else: go through the grocery list and cross off anything you already have at home.
Weekend Meal Prep Tips: Grocery shop! Wash your veggies and put them back in the refrigerator so you don't have to worry about it the day of. Keep herbs in water like you would with flowers.
Shortcuts & Tips:

Buy pre-made pizza dough instead of making your own, just remove the flour & yeast from the list.

Daily meal prep tips:

Monday: Make your pizza dough…should take 5 minutes. Recipe here.
Tuesday: While your traybake is in the oven, split your pizza dough into 4 parts per the recipe here and refrigerate.

Contact me if you have any questions or if something didn't turn out quite the way you expected!