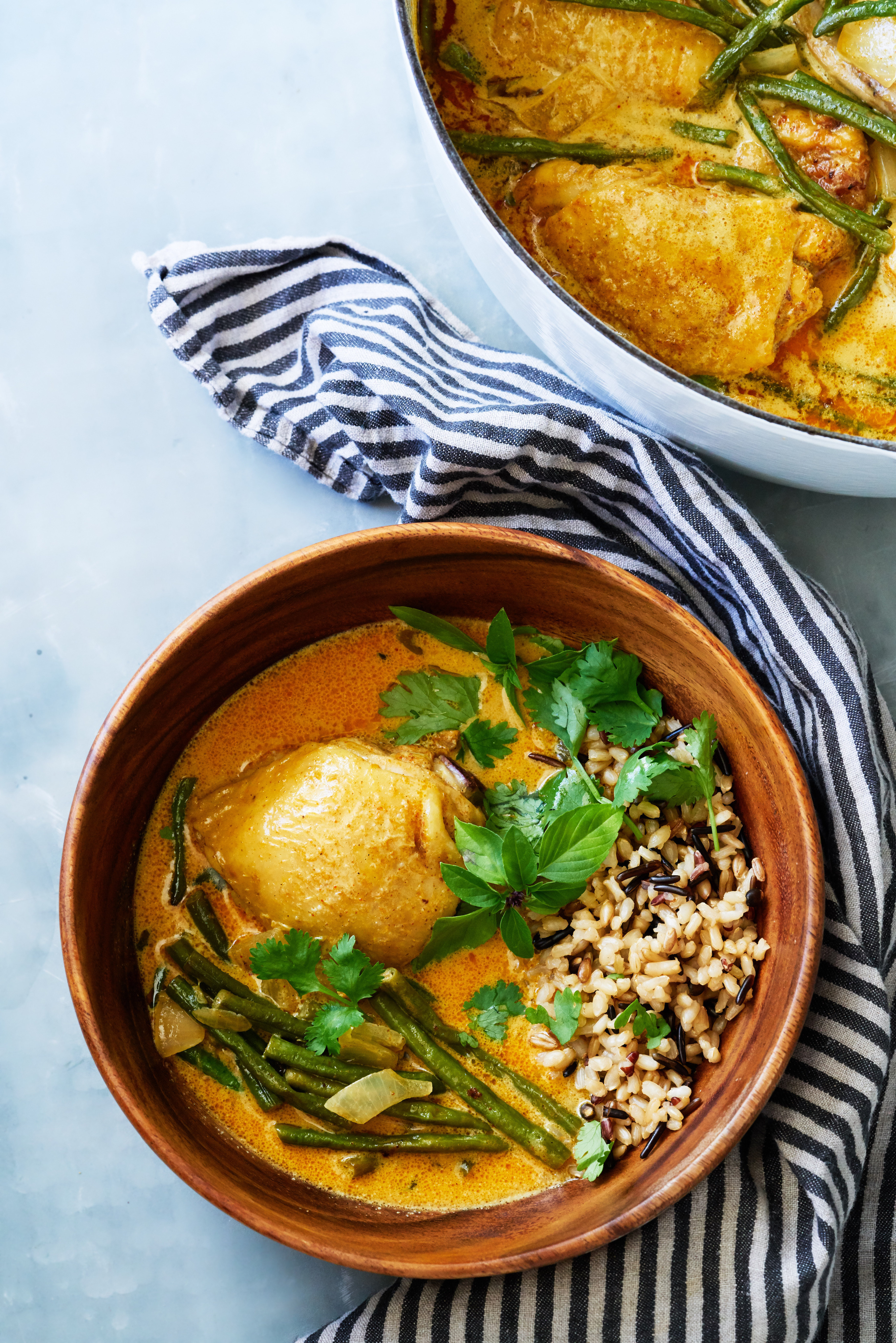 This week's menu:
Monday: Quince Stew with Basmati Rice
Tuesday: Pomegranate Roasted Brussel Sprouts with my Perfect Roasted Potatoes
Wednesday: Lime Chicken Curry with Chicken, Green Beans, & Sprouted Brown Rice
Thursday: Persimmon & Goat Cheese Salad
Bonus Recipe: Persimmon Cake! Imagine banana bread, but so much better!(Ingredients not included in grocery list.)
This meal plan screams FALL in all the right ways! Make sure you take a look at the grocery list, shortcuts, & meal prep tips at the end, they're help ensure you don't unnecessarily waste any time.
Imagine banana bread, but so much better!
Grocery List:
Ingredients
Meat, Poultry, & Seafood:
4 

bone in

skin on chicken thighs

2 

lbs. 

cow neck or chuck
Produce:
8 

cups 

lettuce radicchio

and escarole

2 

large pomegranate

2 

persimmons

2-3 

medium quinces each cut in 8 wedges

If you can't find quince, sub with granny smith apples

1/2-1 

lb. 

Chinese long green beans or regular green beans

1 

bunch of Thai basil

1 

small bunch cilantro

2 

limes

1- 

lb 

brussels sprouts

1

lb.

red and yellow potatoes

6

cloves 

garlic

2

yellow onions
Pasta, Grains, Bread, Nuts, Seeds:
1 1/2 

cups 

sprouted brown rice

1 1/2 

cups 

basmati rice
Cans & Jars:
1 

can coconut milk

1 16- 

oz 

can tomato sauce

~3 oz tomato paste
Spices, Oils, Etc:
7

tbsp 

coconut oil

2 

tbsp 

red curry powder

2 

tsp 

chile powder

7

tablespoons

pomegranate molasses

1/2 

tsp 

Dijon mustard

3/4 

cup 

prunes

1/4 

tsp 

turmeric

flavorless oil like sunflower seed or canola

olive oil

salt & pepper

Optional: a few strings of saffron
Tips & Shortcuts:
Before anything else: go through the grocery list and cross off anything you already have at home.
Weekend Meal Prep Tips: Grocery shop! Wash your veggies and put them back in the refrigerator so you don't have to worry about it the day of. Keep herbs in water like you would with flowers.
Shortcuts & Tips:

The stew and curry taste even better the next day. Consider making them in advance for easy dinners all week long!
The brussel sprouts and potatoes can cook together. Set the oven to 390F and they should be ready about the same time.

Contact me if you have any questions or if something didn't turn out quite the way you expected!
HUGE NEWS!!
I'll be releasing my THANKSGIVING ebook, Thanksgiving Sides & Sweets: Everything but the Bird in 2 weeks! Stay tuned for some brand new recipes that will take your Thanksgiving to another level!