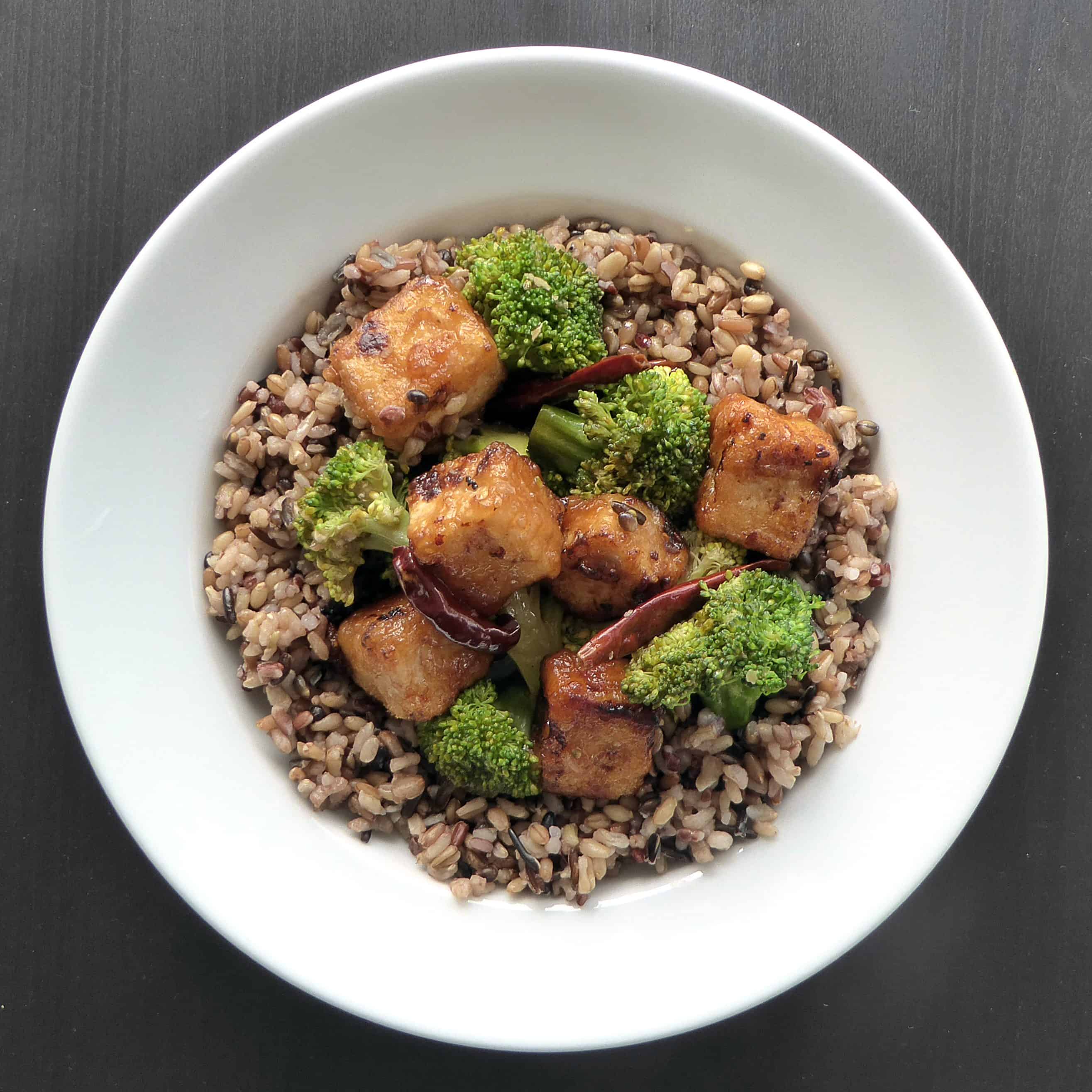 Menu:
Guess what…it's my birthday on Monday! So I've put together a meal plan of all the fast-food cravings I'm having like Chinese take out, pizza, and stir fried ramen noodles 🤤
So grab a pan and get ready for some serious sweet, tangy, spicy, umami action!
Make sure you take a look at the meal prep tips at the end, they're help ensure you don't waste any time.
Grocery List
Ingredients
Meat, Poultry, & Seafood:
Produce:
4

oz.

fresh basil

2 

bunches broccolini

2 

large carrots

1 

small golden beet

3-4

lbs 

broccoli

8-10

inches

of fresh ginger

1

bunch of scallions

4-5

cloves 

garlic
Pasta, Grains, Bread, Nuts, Seeds:
10 

oz. 

ramen noodles

​1 1/2 cups sprouted brown rice

1/2 

cup

pine nuts

1 ½ 

tbsp 

sesame seeds
Dairy:
4 

oz. 

goat cheese

1/4 

cup 

parmesan

Canned and jarred goods:
Spices, Oils, Etc:
1 

large block of firm tofu

lemon pepper

red pepper flakes

1½ 

tbsp 

honey

2 

tsp 

hot sauce

I always use Valentina

5 

tbsp 

arrowroot

Shaoxing wine or Sherry or marsala wine

2 

tsp 

rice vinegar

1 

tbsp 

sugar

soy sauce

500 

grams 

bread flour or all purpose flour

1 

gram 

active dry yeast

½ 

tsp 

sesame oil

flavorless oil like sunflowerseed or vegetable

olive oil

salt & pepper
Optional: 10 whole dried Chinese red chili peppers
It's negroni week and why settle for the usual negroni?
Try this negroni bianco and you'll be happy you did!
TIPS:
Before anything else: go through the grocery list and cross off anything you already have at home.
Weekend Meal Prep Tips: Grocery shop! Wash your veggies and put them back in the refrigerator so you don't have to worry about it the day of. Keep herbs in water like you would with flowers.
Daily Meal Prep Tips:

Sunday: Make your 72-hour pizza dough. Recipe here.
Monday: Split your dough into 4 parts and refrigerate per recipe here. Roast your broccolini at the same temperature as the chicken. You can just put it in the oven on a rack under the chicken for the last 20-25 minutes.
Wednesday: Take your dough out of the fridge 1 hour before cooking. Make your basil pesto for the pizza.
Thursday: Get your rice going first. It takes a while and you can keep it covered (and off) on the stove once it's ready.

Contact me if you have any questions or if something didn't turn out quite the way you expected!