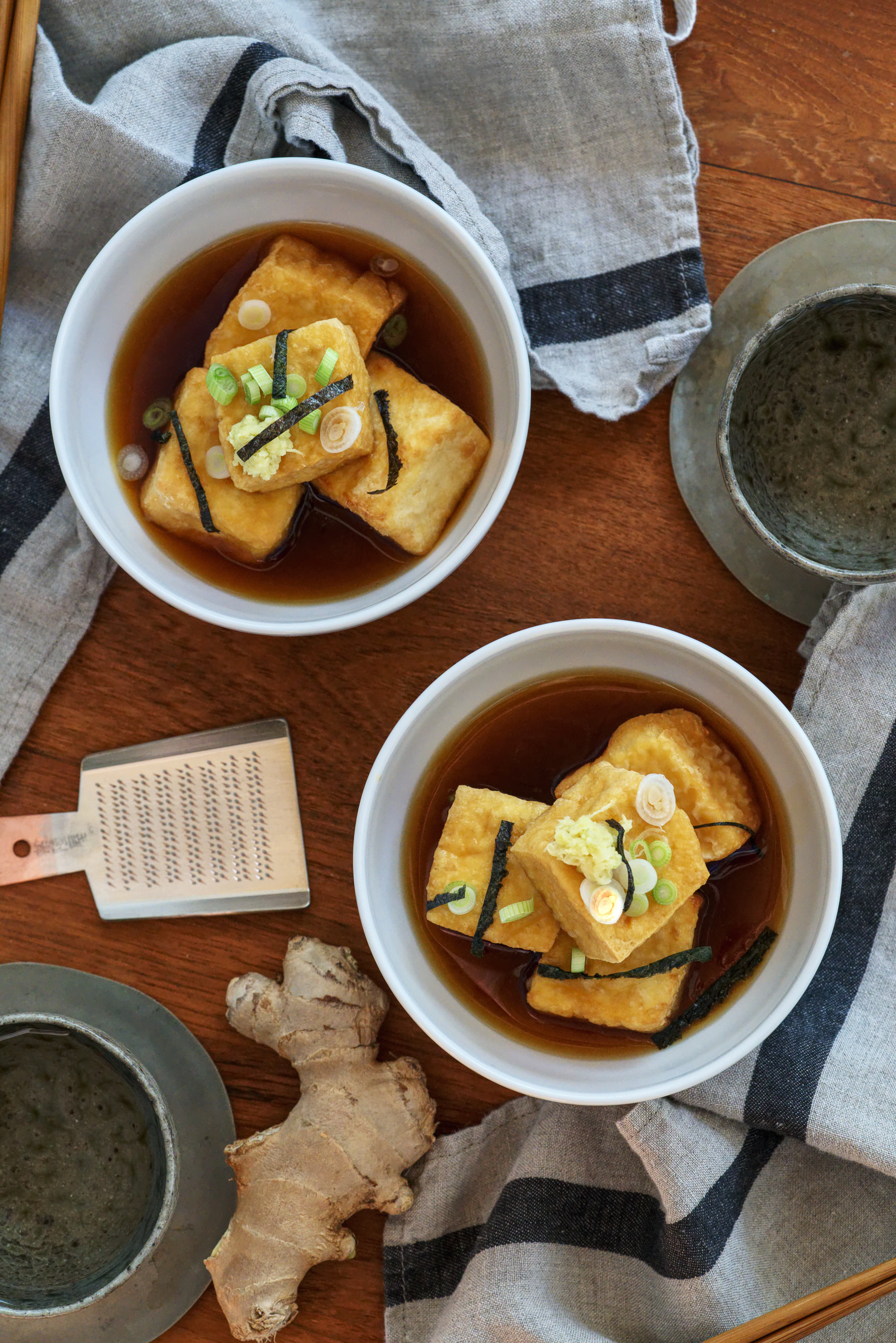 Menu:
Monday: Oyako Don (chicken and rice) with Sprouted Brown Rice
Tuesday: Bone Broth Udon Soup
Wednesday: Agedashi Tofu
Thursday: Soba Noodle Stir Fry with Edamame, Tomatoes, Basil, and Baby Bells
Bonus Recipe: I'm taking my matcha ice cream recipe to another level here with Matcha Macaron Ice Cream Sandwiches! (Ingredients not included in grocery list.)
This week, you get to join me on a trip to Japan…Well, at least during dinnertime!
On our trip to Japan I got to learn how to make some delicious Japanese food, and this week, you get to try some…
We'll be making some classics and some fusions, which in my opinion is the perfect mix. And to top it all off, I've included a guide to Japan that will have you dreaming of your next trip!
Make sure you take a look at the meal prep tips at the end, they're help ensure you don't waste any time. 
Grocery List:
Ingredients
Meat, Poultry, & Seafood:
4 

boneless-skinless chicken thighs

6 

eggs
Produce:
8 

oz. 

sweet baby bell peppers

16 

oz. 

cherry tomatoes

~8 inches fresh ginger

3-4 

cloves 

garlic

1-2 

Thai chilis OR sub 1-2 tsp red pepper flakes

1 

small bunch basil

2

bunches scallions
Pasta, Grains, Bread, Nuts, Seeds:
4 

bundles soba noodles

24

oz.

frozen udon noodles

1.5

cups

sprouted brown rice
Canned and jarred goods:
4-6

cups

bone broth

stock, or miso soup

8 

tbsp 

chicken stock OR 1 bouillon cube OR 1 tbsp better than bouillon
Spices, Oils, Etc:
2

blocks firm tofu ~2 lbs.

all-purpose flour

sugar

Mirin

soy sauce

1/2 

cup 

sake

honey

miso OR 10 g kombu seaweed & 10 g dried bonito flakes

katsuobushi

flavorless oil like sunflower seed or vegetable

olive oil

salt & pepper
Want to make your own bone broth? Add the following to your list:
4-6 

chicken backbones

chunks of beef bones, or leftover poultry carcus

1 

bulb fennel

1 

onion

1 

bay leaf

1 

tbsp 

black peppercorns

3 

inches 

fresh ginger

1 

head garlic

1 

jalapeño
Matcha Macaron Ice Cream Sandwiches
I'm taking my matcha ice cream to another level with these ice cream sandwiches….I know you want to have one of these right now!
TIPS:
Before anything else: go through the grocery list and cross off anything you already have at home.
Weekend Meal Prep Tips: Grocery shop! Wash your veggies and put them back in the refrigerator so you don't have to worry about it the day of. Keep herbs in water like you would with flowers.
Daily Meal Prep Tips:

Sunday: If you are making your own bone broth, make it today. You can also cook your sprouted brown rice.
Tuesday: Get your dashi ready today for the agedashi tofu tomorrow. It is best to soak the seaweed in the water overnight in the fridge. Saves the hassle of doing it before dinner.

Contact me if you have any questions or if something didn't turn out quite the way you expected!